Since this was previously scheduled, enjoy a book review.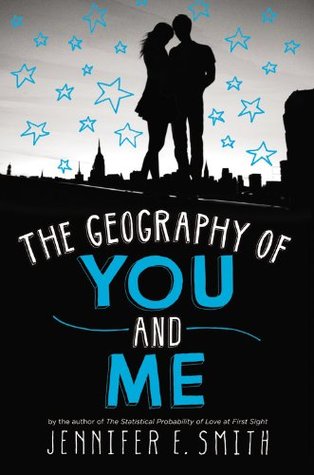 Summary (as seen on Goodreads):
Lucy and Owen meet somewhere between the tenth and eleventh floors of a New York City apartment building, on an elevator rendered useless by a citywide blackout. After they're rescued, they spend a single night together, wandering the darkened streets and marveling at the rare appearance of stars above Manhattan. But once the power is restored, so is reality. Lucy soon moves to Edinburgh with her parents, while Owen heads out west with his father.
Lucy and Owen's relationship plays out across the globe as they stay in touch through postcards, occasional e-mails, and -- finally -- a reunion in the city where they first met.
A carefully charted map of a long-distance relationship, Jennifer E. Smith's new novel shows that the center of the world isn't necessarily a place. It can be a person, too.
As sometimes I feel neutrally about some things, I'm also going to try adding So-Sos to the mix. So there will be three categories now: Yays, So-sos, and Nays.
Yays:
Post-card communication. This was adorable and unique to this novel, and quite enjoyable to watch how this was involved not just in Lucy's life as a child, but throughout the novel.

The details involved in the novel. They were small, but added so much more depth to the story and to the characters.

The parts and their titles, especially how they tied in with the beginning of the novel. It really made the story flow well together as a whole.

Realistic characters. Lucy and Owen seem like very real, three-dimensional characters who, for the most part, act their age. Not every author manages to capture the essence of being a young adult quite so well.

The inclusion of so many different locations and the involvement of travel. The fact that Lucy and Owen traveled in opposite directions of each other for most of the novel was very interesting, especially with how geographic distance correlated with emotional distance.

How Owen's mother fit in with the story. That was a nice added touch.
So-sos:
Having a pretty good idea of how the book was going to end from the very beginning. It felt very obvious that these characters would go their separate ways and would eventually meet again, so half the fun of reading feels missing.
The main characters meeting other potential love interests. This felt like a very predictable plot-line. At the same time, it does add to the story, but did feel a little cliché.
Nays:
Blurriness between past and present. It was too difficult to decipher whether a scene had just jumped into a flashback, and when it returned to the present. This required some need to read backward before being able to continue. Also, it gave the story a feel of being told rather than shown, which is a pity because a lot of other details of this novel really make it feel like the story is being shown rather than told.

The reasons Owen and Lucy stopped keeping in touch felt a little strange, and didn't really make sense. It also happened a little suddenly. If the readers had been eased into this idea a little more, maybe it would have made more sense.

The book feels a little slow at times, especially when it gets bogged down in the past.

Timing of some of the kisses. (I'd say it's not a spoiler alert since it seems obvious this was bound to happen.) It felt like they generally came sooner than they would realistically, and really makes it feel like it's a novel and not likely to happen in real life.
On the whole, I did enjoy this novel more than I enjoyed the last one I read by Smith, The Statistical Probability of Love at First Sight, but something about Smith's writing style still hasn't jived well with me. Still, if she were to come out with another YA contemporary novel, I wouldn't be opposed to reading it.
I give this book 3 and a half jellyfish, but in the interest of not cutting a beloved jellyfish in half, I am rounding down because that's how I rated it on Goodreads.
Thanks for stopping by to hear my thoughts! Also, please feel free to recommend books to me!